ESTEC – DESTINATION MANAGEMENT COMPANY &  INCOMING TOUR OPERATOR (www.estec.cz) is our official partner for ERCPRAGUE2017 congress registration, official accommodation, airport transfers, sightseeing tours and travel services which all you can book and pay online on special ERCPRAGUE2017 congress online application : www.ercprague2017.b2bonline.estec.cz
The list of optional sightseeing tours:
Karlštejn castle
Discover a symbol of Czech history and visit in 4 hours one of the world's most visited castles.Karlštejn was founded by Charles IV in the 14th century. Karlstejn served as a place for safekeeping the Empire coronation jewels, holy relics and other royal treasures. After climbing the hill on which it stands, this Gothic gem will impress you with its monumental architecture. Includes an hour long tour of the interior with a local guide.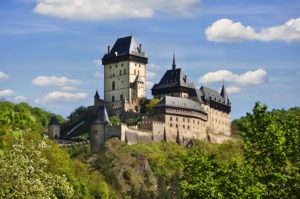 Duration: 4 hours
Free pick up at hotel
Tour ends in centre of Prague
Konopište and Karlštejn Castle
Visit a two gems among Czech castles and chateaux in one day.Konopiště Castle was founded in the 13th century and is well known for its fascinating collection of weapons and antique furniture. Karlstejn castle is from the 14th century founded by Charles IV, Czech king and Roman emperor, as a depository for the crown jewels and relics of saints. During this trip you will take a tour of the interiors of both castles with a local guide and enjoy a 3 course lunch in the castle town.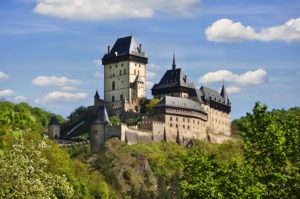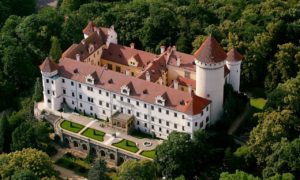 Duration: 8,5 hours
Free pick up at hotel
Tour ends in centre of Prague
Český Krumlov
Let's go on a day trip to the fabulous city Cesky Krumlov with a castle visit and lunch.Czech Krumlov has been part of the UNESCO cultural and natural heritage since 1992. The city has more than 300 historical buildings and also the largest castle in the Czech Republic with magnificent baroque gardens, which includes the oldest Baroque theater in the world with a unique revolving auditorium. Feel the firsthand medieval atmosphere of this charming city! We will walk through winding streets with many beautiful Gothic, Renaissance and Baroque houses with our guide and a 3 course lunch at a local restaurant. In summer, lunch is followed by a tour of the castle interiors with a local guide, in the winter following lunch we visit the castle museum.
Duration: 10.5 hours
Free pick up at hotel
Tour ends in centre of Prague
Kutná Hora
Go back in time for 5 hours to the Middle Ages and visit the second most important town in Bohemia.Kutna Hora was the medieval center of silver mining and the second richest town of Bohemian Kingdom. You will visit the Gothic Cathedral of St. Barbara and unique stone fountain from the 15th century. Tour also includeds a visit to Ossuary (Bone House), one of the most interesting burial places in the world decorated by more than 40000 human bones. The city has been protected by UNESCO 1995.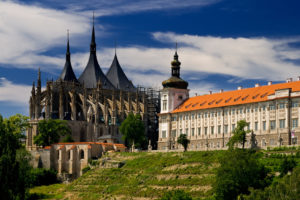 Duration: 5 hours
Free pick up at hotel
Tour ends in centre of Prague
Karlovy Vary
Walk during this day trip along the world-famous spa and have lunch at the Colonnade.Karlovy Vary is the most famous spa town in the Czech Republic, the history of the city dates back to the 14th century, the time of Charles IV .. The curative effects of the local mineral springs were used as treatments on greats such a Tsar Peter the Great and the writer Goethe. One of the most famous attraction is the Hot Spring that spews boiling healing water up to a height of 12 m. In the city you can look forward to a wide range of historical and modern colonnades and tasting water from 12 natural mineral springs. After 3 course lunch in a local restaurant we recommended to also taste delicious wafers and traditional liqueur Becherovka, made from a unique blend of herbs and spices.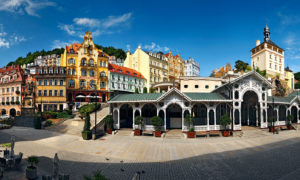 Duration: 9.5 hours
Free pick up at hotel
Tour ends in centre of Prague
Do not hesitate to contact our official partner for all questions regarding trips: www.ercprague2017.b2bonline.estec.cz